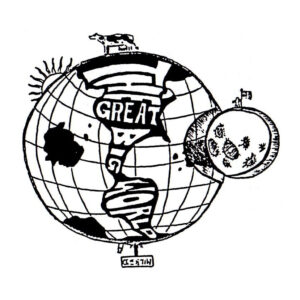 Before Flood there was The Great Big World. The Great Big World was comprised of Jeremy Spears, Shaun Fox, Carl Lucus, and me, and we wrote and played together under this moniker for some of 1993 and half of 1994. We really cut our teeth during this phase and the music is, well, pretty terrible. We were trying to find our place, our sound, and ourselves, and these recordings provided a glimpse into the rough, early stages of this development. I'm proud of the work we did in Flood but it took some time to get there.
Normally I like to only release the polished work we did. I thought these recordings, however, would at least be important for the previous members of Flood to have available for nostalgia. Nostalgia is all that's left of Flood and the bond we shared for that brief period of time. In that context these unpolished recordings are as important as anything else.
I have two batches of recordings. The first batch comes from a practice session sometime in 1993. I don't think Carl had joined the group yet and if he had he wasn't there during this session. We grabbed a standard tape recorder, placed it in the center of the room, then pressed record. I call these the "demo" sessions. The second batch is from an actual produced EP we recorded with the help of Scott Robinson. This one we called "Milked".
In all their glory, here's the list of the only surviving The Great Big World recordings:
Demo Recordings
Bleed
Diver
Milked
Rider
Static Radio
Milked E.P.
A Little Too Close to Simple
Milked
Elevator Room
Bleed
You can have a listen to them here.
© 1993, 1994 Brian Jarrett, Shaun Fox, Carl Lucas, Jeremy Spears