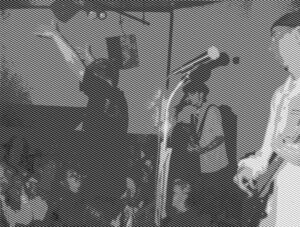 Acid Rain(1)

From the flea market days. (1)

Allison Lights

Richard Ray fronted this band (during his "Green Day" years). There was also a guy who played a double neck SG with an unbuttoned shirt but I don't know his name. Richard Ray eventually went on to play in another band called Shindig with Brian Pauley from Dirt Bear.

Anyone Can Whistle

Arch Angel

I can't even remember these guys in any detail; I think they played the Pit a couple times.

Big Daddy Stick

I seem to remember that Big Daddy Stick had a member named Paul Weaver. He was nicknamed the "Boone County Yeti" I believe. As I remember the band was from Boone County, WV. The running joke was that Big Daddy Stick was famous for having "road whores" which made other bands jealous. Kids… 🙂

Book (1)

Jason Williamson and Tex Carroll (vocals), Phil Conifer (drums), Brian Spangler (guitar), Ray Davis (bass). Book played the famous "Hurricane Show" along with Freaktent, Green, and others. (1)  According to Brian Spangler, Book never played this show. Book played one party at Matt Wheeler's house but knew only three Misfits songs that they played over and over again until they got bored. In addition to the members listed above, Book also included Matt Lucas. (5)

Buddhashrooms

Buddhashrooms consisted (partially) of Brian Dills, John Dills, and Andy Masker. At some point, probably around 1994, Andy left Buddhashrooms and was replaced by Chris Klinger. Andy went on to play in Dirt Bear.

Camel Beast (3)

Camel Beast, the stuff of legends. They were local legends by the time I came into the scene but I never saw them play.  They also have a Facebook page featuring some of their recordings. (8)

Dead Ant Farm

Dead Ant Farm had been around for some time by the time I came into the scene. They went through several line up changes over the years. During my time they were made up by the late Justin Gordon (bass), Jason Williamson (vocals), Phil Medley (guitar), and Matt Wheeler (drums). Joey Clagg played with DAF in the early days. Eventually Phil Medley left the band to start The Jeffersons and Bo Vance become their new guitar player (1). The original line up included Phil Medley on vocals, Dustin Lanning on guitar, Matt Wheeler on drums, and Justin Gordon on bass. (1)

Dead Dolls

A band that played the "Farm Show" (a.k.a. "Bobstock") and probably came close to kicking my ass. Don't know much else about them.

Dementia

Played only one show that I remember, the Provos reunion show.

Dirt Bear

Dirt Bear formed from the ashes of the Provos and Buddhashrooms. After Jason Little (Provos) left for duty in the Navy, Billy Reynolds and Brian Pauley were left without a band. Andy Masker from Buddhashrooms knew Billy and they all saw the opportunity to form a band and play some music. They started out as a joke band but grew to be the most popular band of the scene at that time. Dirt Bear had a "punk/pop" sound of sorts and their music made an instant connection with the kids in the scene. Dirt Bear was tightly linked to two other bands of the scene, Flood and Sevin, and played many shows together in 1994 and 1995. After Billy Reynolds left the band in early 1996, Joey Klagg from Sevin became their new bass player. Unfortunately the steam was apparently gone from the Dirt Bear engine and the band broke up some time during 1996.

Electric Sex Band

The Electric Sex Band was formed by John E. Sizemore from Freaktent. During a leave of absence from Freaktent John E. formed this band with Jeffrey Johnson (4), Les Helper, and Alex Kail (2). John eventually rejoined Freaktent and was still playing with Chris and Shane as of 2007.

Falooda

The story went that Falooda's two guitar players tuned a half-step apart from each other, creating a consistently out of tune sound. We played a couple shows with them and they were great guys.  Falooda was made up of: Ameen Abdulla (lead guitar), Danny Susla (1) (rhythm guitar), Chris Ellis (bass), Aaron Crothers (vocals), Kent Spriggs (drums). (9)

Flood

Flood was originally formed from the ashes of The Great Big World. The original Flood line up consisted of Jeremy Spears, Brian Jarrett, Shaun Fox, and Carl Lucas. Carl Lucas was eventually replaced by Adam Triplett in the fall of 1994. Flood played a style of "heavy alternative" and was heavily influenced by bands like Helmet, Quicksand, and Tool. Flood played extensively with Dirt Bear and Sevin throughout the Nitro/Charleston music scene. I eventually left the band in December of 1995 and Flood officially disbanded in early 1996. Flood released two albums, Spate and Halo Arrangements and Alternate Wall Fixtures, and recorded four songs for the Cave Records compilation.

Flounder

Included Jimi Moore, Ian Shriver, and Nick Whittard. (10) Flounder even had their own van, spray painted with their band's name on the side.

Freaktent

One of the oldest bands in the scene; definitely founding members. Freaktent is also one of, if not the only remaining band from the Nitro scene. Primary members included John E. Sizemore, Shane Parsons, and Chris Allen.

Green

Played the famous "Hurricane Show", my first local show. I believe Brian Ray played drums for Green at some point.

The Happy Foundation

Ronnie Stricklen, Zach Humphreys, and Jonathon Fields.

I.N.R.I.

Shaun Moore, Ian Shriver; all the way back to the flea market days.

Insane Mind
The Jeffersons

Created by Phil Medley after leaving Dead Ant Farm (1).  Included Ian Shriver and Nick Whittard as well. (10)

Last Rites

Billy Reynolds, Brian Pauley, Jason Little, Carl Lucas, and a jerk name Nick Tipsing. The Provos were formed from Last Rites decaying corpse. 🙂

The Lazy Harold Band(1)

From the flea market days. (1)

Lower Case i

Another Paul Rucker project, if I remember correctly.

Malicious Intent

We played a show or two with these guys; I think they were based outside the Nitro/Charleston area. I think they became pretty popular after I got out of the scene.

Mumble

Flood played a show with these guys back in April of 1995. According to their guitar player, Shawn Thumm, "I think we were going for a simple punk rock style with goofy stupid elements mixed in". (6)

Mustard Pie(1)

From the flea market days. (1)

Noise Box

Another founding member of the scene.

The Provos

Formed from members of Last Rites, the Provos dominated the scene until their guitar player, Jason Little, left to join the Navy.

The Pu'Rens(1)

Joe Moore on accordion, Dusty White, B.J. Barnes. (1)

Royal Fudge n' Cake (R.F.C.)

Dusty White, Zack Ray, Jeff Albright, Jason Wandling (1)

Richard's Anger
Ritual Youth
Severe Limp

Another Paul Rucker band, I believe.

Sevin

Sevin was formed by Ray Davis, Brian Spangler, Joey Klagg, and Phil Conifer. Recognized in the scene as "music you can dance to" Sevin gained a large following in the Nitro music scene. They played extensively with Flood and Dirt Bear as well as other bands of the time. Sevin disbanded in early 1996 and Joey Klagg went on to play in Dirt Bear until their demise in 1996.  Sevin's first show was the famous "Hurricane Show" and included Jason Williamson and Tex Carrol on vocals, Brian Spangler and Matt Lucas on guitar, Ray Davis on bass, and Phil Conifer on drums. (5)

Slip

Ronnie Stricklen's old band before The Happy Foundation.

Special Interest Group

Vince Biel's band. We played with them once or twice. Vince's father, Chuck, was a well-known and talented guitar player who provided lessons in the area.  Special Interest group featured Vince on drums, Sam Scholen on guitar, and Roadblock on bass.  They also played a show once with a cello player. (7)

Spork
Ten Gauge

Formed by Brian Dills, John Dills, and Jeremy Spears after the breakup of Flood.

The Trash Bags(1)

Jon Warren (drums), Jimmie Moore (bass), Chris Allen (Guitar). (1)

Trout

Originally known as "Troutfishing in America", Trout was formed by Steve McConihay, Shawn Beckner, Shane Parsons, and Tim Dorsey in early 1995. Brian Ray eventually replaced Shane on drums in late 1995. Trout recorded four songs for the Cave Records compilation. Trout disbanded in late 1995 or early 1996.

Unapanabonkas

I saw these guys play at the first (and last) annual Charleston Music Fest. Their drummer's name was Brian Holstine (7).  As I understand it he had no hair on his body; he suffered from a condition called Alopecia in which the body's immune system destroys the hair in the follicle before it can grow. Supposedly he never had a cold in his life, or so the story went.  Brian Holstine was formerly the singer for The Pistol Whippers, and as of 2011 plays drums in a Beatles tribute band called Rubber Soul. (7)

Union 411 (1)
Watership Down

Flood had what I'd consider a minor skirmish with these guys. I think it started after the first Roller Rink show. It never turned into an altercation, and even now I can't remember exactly what it was about. They were a three piece, kind of light rock, with a guitar player named Jeremy and a bass player named Bob. I can't remember the drummer's name.

West By God

After Flood broke up, Jeremy Spears and Shawn Fox went on to form West By God.  The original lineup also included Matt Wolfe, formerly of Byzantine. As of 2011, Byzantine is working on new material.  (7)

Who Cares?

A band from Sissonville, WV. I saw them play at the Charleston Music Fest and bought one of their tapes. After my own band was established I contacted them about playing a show with us. They did and it went pretty well. They were nice guys too.
(1) Information courtesy of Bo Vance
(2) Information courtesy of Alex Kail
(3) Added per suggestion by Henry Bono
(4) Information courtesy of Jeffrey Johnson
(5) Information courtesy of Brian Spangler
(6) Information courtesy of Shawn Thumm
(7) Information courtesy of Roadblock
(8) Information courtesy of Paul Rucker
(9) Information courtesy of Steve Spriggs
(10) Information courtesy of Ian Shriver